Tex Axile
Little Monsters (Spermboy Records)
By: Bernadette Giacomazzo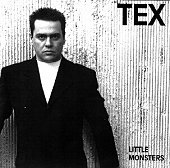 In this day and age of packaged sexuality in the form of Brittney Spears and trite lyricism of N'Suck (sorry, N'Sync) and the like, it's almost a sin to be a rocker. Christ, even Kid Rock rides the wave of success based on his mega-pimpdom.

So why does Tex Axile, the Artist Uncommonly Known as Anthony Doughty, do it?

Probably because he knows it's what he does best.

At any rate, Tex Axile follows up his 1998 debut solo release, Diary of a Genius, with a first-class Y2K release called Little Monsters.

As many of you who know my writing are aware, I extolled Diary of a Genius -- in countless reviews. I still believe that Diary is artistic achievement and a solid album; however, Little Monsters, unlike its predecessor, is polished, cohesive, and sophisticated, and makes Tex seem less like the jaded, fuck-the-world ex-Transvision Vamp drummer and more like a mature, learned artist getting increasingly comfortable in his own skin.

In short, Little Monsters has Tex realizing -- on a personal and artistic level -- that, however begrudgingly he may do it, it's easier and better to be yourself.

As usual, Axile shines brightest on the instrumental, Eno-esque pieces, and lugubrious "Pernicious Bay" and granola-folkie "Here's To The Mouton" don't disappoint. Though they don't have the same heart-pulling quality as "Betty" (from Diary of a Genius) does, they exhibit a contemplative -- but never suicidal -- sense that few modern-rockers have.

It is this vulnerability, this unawareness of his inner beauty, this self-deprecation, that makes Tex Axile such an interesting (and SUPER sexy) person and artist. On the opener, "The Ugly One," he laments: "When I'm close to you/I feel such a fool/Could you notice me/I'm the ugly one," without resorting to pre-pubescent falsettos and co-dependent wails. It makes you wonder how pretentious, self-absorbed temper tantrums from N'Suck (sorry, N'Sync -- old habits die hard) and the like get the radio airplay that they do.

The only time that Tex falls short of the glory is when he tries to wax Astralwerks with "Love is a Drug". It is through no fault of his own -- the beat is catchy, the sampling aggro -- that the breathy, wannabe chanteuse makes Celine Dion sound articulate; frankly, I haven't been this annoyed by a French accent since Vanessa Paradis tortured me and the rest of Europe with the 1980's Eurotrash oh-god-make-it-stop hit "Joe Le Taxi".

Still, even the most cynical of critics have to marvel at the wide range of abilities Tex Axile exhibits as an artist. Diary of a Genius reintroduced the Tex Axile that the world knows: the drummer who was woozy from Wendy James' peroxide and had dust in his eyes from the success trail blazoned by his erstwhile sidekick, Bush's Dave Parsons. Little Monsters introduces the world to the Tex Axile they deserve to know: a beautiful, wise, complex artist and man who's both a casual observer and an active participant in the sequence of events that make up his life and his ultimate destiny.