Roht
Rant (Trocar Records)
By: Alex Steininger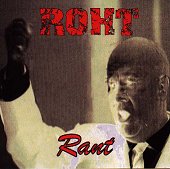 Combining various styles (punk, metal, folk, and rock), Roht's RANT is a horrid collection of varying directions and utter confusion. The band can't stick with one thing very long, which is a good thing, because if they did, you'd probably like them even less. No matter what they touch, it turns to shit.

The songwriting is weak; the vocals seem to just want to scream and talk, while the band decides everyone is going to go their own separate ways. Simply put, this album is nearly unlistenable. I'll give it a D-.