Radar Mercury
Thank You, Goodnight (Doghouse Records)
By: Alex Steininger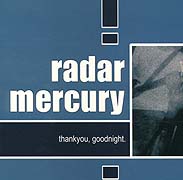 New Jersey's five-piece known as Radar Mercury are both poppy and aggressive, playing an intense brand of power-pop that has the balls to be bold, but isn't afraid of unleashing catchy pop either. It's solid, fun, and overly powerful, without beating you over the head.

"Million Dollar Messenger Boy" just comes at you full blast, unleashing rock 'n' roll that is plenty loud and rhythm-heavy. The vocals, though, add a different spin on the song, giving everything an emotional, more-than-frills substance that helps get the words across in a non-depressing, yet careful way. "Tenth Grade" is fun and emotional; hooking you with a pop hook that comes out of no where and twisting you from there. "Nothing's Wrong, Nothing's New" blasts along with an aggressive rock appetite, but is never too full not to entertain with some pop sensibilities, while "Danny Gomez?" is a near pop-punk force to reckon with.

Though only a year old, Radar Mercury serve up a four song EP sure to gain them a regional following to start out; a following that is surely to grow with each album and tour. I'll give it a B.