Another Level
Another Level (Arista Records)
By: Alex Steininger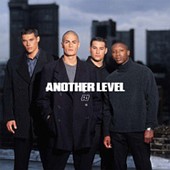 You know, the Backstreet Boys have a hit, then comes along N'Sync, and the floodgates are opened. Boy groups are everywhere. Well, this happens when any sound, style, or fashion becomes popular. But, right now it's the boy bands shot. Jumping into the pool now is the UK's Another Level, a multi-cultural group that sounds like all the rest and is pretty like them too.

Their U.S. self-titled debut finds the four-part harmonies and glossy production hitting you over the head with more sweet love songs and easy, slick beats that get you dancing. Basically, if you like the rest, you'll probably like this. It's all the same. I'll give it a C-.