3 Doors Down
The Better Life (Republic/Universal)
By: Alex Steininger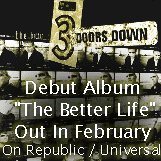 Originally a three piece (hence the name), this Biloxi, MS four-piece play very typical, run-of-the-mill modern heavy rock so predictable and so derivative of everything that's already on the radio, you'll swear you've heard all this before. And, you'll probably be right, because it's been done so many times over; it all sounds the same anyhow.

If you like your rock so bland it destroys your taste buds and makes your ears bleed, then this might just be your thing. If you like music with creativity and some spunk, or at least some excitement in it, then this just isn't your cup of tea. Stay clear, really. I'll give it an F.