Saves the Day
Through Being Cool (Equal Vision Records)
By: Alex Steininger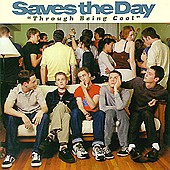 With an average age of twenty, New Jersey's Saves the Day blast out melodic pop-punk with all the teenage angst of every other pop-punk band out there. But, they're still young enough to actually not sound lame doing so. Their second full-length, THROUGH BEING COOL, is a catchy, addictive pop-punk package that kids will surely love.

Sugary, sweet, but fired up with teenage turbulence, Saves the Day's songs follow the pop-punk formula and they work. The title track is a bouncy, powerhouse of loud guitars and crunchy rhythms while the vocalist takes the lyrics and tries to fight his demons through the anger he excretes. This continues throughout the album, especially on tracks like "Banned from the Back Porch," "The Vast Spoils of America (From the Badlands Through the Ocean)", and "You Vandal".

Let's be honest. Pop-punk bands are a dime-a-dozen. Fuck, bands are a dime-a-dozen and everybody is doing what everybody else is doing. So, to excel in anything musical this day and age is quite hard and takes a lot of hard work, luck, and talent. Though they're not a band anyone is going to call musical geniuses, Saves the Day's pop-punk is fresh and invigorating, hooking you from start to finish and giving you a good ride along the way. They're good at what they do and you'll really enjoy them for that. I'll give it a B+.