The Puritans
Sing The Hymns of Shoutin' Abner Pim (Shoutin' Abner Pim Records)
By: Alex Steininger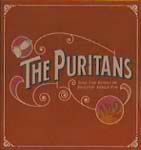 Canada's wild punk-rock-a-billy serve up another blast of fury, mayhem, and excitement on the band's second album, SING THE HYMNS OF SHOUTIN' ABNER PIM. Seven songs, twenty minutes, and time to spare... makes perfect sense to me, how about you?

"Spy Opener," "D-Hey-E," "Suave Like Turski," and "Mexican Volpertinger" all find the band shaking things up with their eclectic, but always rock 'n' roll sound, as they whisk you away with fusions of rock-a-billy, the blues, and many other styles that all meet punk and rock half way.

The album is energetic, wild, and scary at times. It's the kind of ride you can't stand to sit through with your eyes open, but if you close your eyes while enjoying it, it is that much scarier. Take a chance and enjoy. I'll give it a B.