SHOW REVIEW: Mandarin
Portland, Oregon - January 5, 2000 (Lola's Room at the Crystal Ballroom)
By: Alex Steininger



Three other bands were on the bill. However, rushing from a music recording class twenty miles from the Crystal Ballroom, I managed to find a parking spot downtown and pop into the venue just as Chris Brady, Steve Birch, and Paul Johnson - collectively known as Mandarin - were setting up and getting ready to play.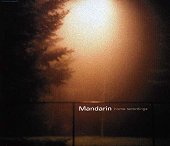 "Great timing," I thought to myself. Not that I didn't want to see the other three opening acts. Starter Kit, a great indie-rock/pop act from town, the first band on the bill, is one act I actually wanted to see. But, with my schedule, it was impossible. So, I felt quite happy to get there just in time to see Mandarin perform. After all, I didn't want to miss any of their set, especially after hearing their four song demo, Home Recordings , that has been going out to press and friends alike.
The band's sound is a combination of various rock sub-genres. Some may be quick to write them off as another emo act, or an indie-rock outfit. But, both of these terms would be too general and not even begin to touch the surface. Chris Brady's voice is very gripping, hitting you with the emotional pull, while the rhythm section (Brady on bass and Johnson on drums) can trickle along, playing up the emotional aspects of Brady's voice. Or they can just rock out, while guitarist Steve Birch slides around on the guitar, spilling out friendly, inviting guitar riffs that seem to heat up and become sharp and quick when the band goes full blast.
This evening proved though that no matter how engaging the band is on their demo, their live show is where they're really going to turn heads. The demo has its rock-out moments and can hit you up along side the head as well as softly toy with your delicate emotions. Live, though, the band becomes a force to reckon with.
Turning the rocker "Broken" into even more so live and then bringing you to near tears with the poignant tale of a man and his love for his robot that is broken with no spare parts ("I Love Robot"), Mandarin leapt from indie-rock band to just a solid musical force, progressing with each song while luring the crowd in more and more.
I knew the band was good after listening to the demo. Heck, I think they're great. But, seeing them live I fell even more in love with them. They manage to do what few bands can't. They have no problem pulling off the slow songs live and then bouncing right into a poppy, powerful rocker that makes your head spin.