Murder Inc.
Locate Subvert Terminate (The Complete) (Invisible Records)
By: Alex Steininger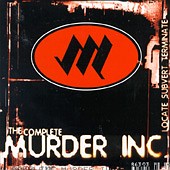 Coming from a very strong lineage, you'd expect Murder Inc. to be phenomenal. I mean, the band consists of: Chris Connelly (Ministry/Revolting Cocks/Pigface), Martin Atkins (PiL/Ministry/Killing Joke/Pigface), John Bechdel (Killing Joke), Paul raven (Pigface/Killing Joke), Paul Ferguson (Killing Joke), and Geordie Walker (Killing Joke). But this complete collection of Murder Inc. material, including the self-titled debut, the CORPUSCLE remix EP, and live tracks from their first European tour, falls flat.

The music walks between watered down industrial, meandering Goth, and uninspired rock. With over ninety minutes of music, and plenty of songs to choose from, there are a few good moments when things look up ("Last of the Urgents"). But, the majority of the album is a disappointment. I'll give it a D+.