Hell Child
Bare Skin (Howling Bull America)
By: Alex Steininger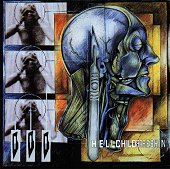 Thick, fuzzy, distorted guitars, throaty vocal screams, and a "I wanna kill you" rhythm section, Hell Child is your typical death metal band. Hailing from Japan, these guys do nothing for metal that hasn't been done before, and don't even do it in that much of a style.

From start to finish this album is one loud, annoying noise. Beating the death metal horse into the ground, they scream and hurl the words on top of typical, metal-issued beats and an anger-fueled fire that burns deep inside the band.

For some this might be your cup of tea. You may enjoy angry, overly done death metal with all the hoopla. If so, check it out. But, if you're looking for something musical, go elsewhere. I'll give this a D.