Chemlab
Burn Out At The Hydrogen Bar -and- East Side Militia [re-issues] (Invisible Records)
By: Alex Steininger



With a cult following still burning well after the band's demise, defining the term "machine rock," and releasing two fiery, if not deadly albums of pure mayhem, Chemlab has undoubtedly earned a spot in the history of industrial rock and all hard rocking texts.

To coincide with frontman and conceptualist Jared Louche's solo album ("Covergirl"), as well as the reformation of Chemlab, Invisible has remastered Chemlab's two albums, added liner notes from Jared Louche, and two bonus re-mixes on both discs, ensuring that old and new fans alike will want this collection of still vital songs from one of the few bands of the 90's who posses anger, rage, spirit, and vision.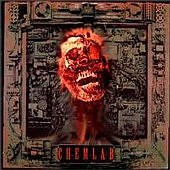 BURN OUT AT THE HYDROGEN BAR contains such standouts as "Codeine, Glue and You," "Suicide Jag," "Chemical Halo," and "Summer of Hate." "Codeine, Glue and You" splits you in two with Louche's up front, demented vocals, which, by all accounts, you should fear. But, instead, you embrace them as you crawl into the song's gut and find out just where it is coming from.
The rage of "Suicide Jag" burns in your head while the twisting grooves of the song sting you with spine tingling excitement, drawing you in as it spits you back out. Same goes for "Chemical Halo," though this time around the industrial roar of the song paralyzes you with techo wizardry rock, unafraid to use all tools and weapons available to stop you in your tracks. And, of course, "Summer of Hate," just splits you open with one big blow after another.
Martin Atkins remix of "Chemical Halo" feeds you a wall of sound backed by a danceable, yet hidden, percussive groove. Mark Blasquez's remix of "Suicide Jag" offers us another take on this album classic, as well, leaning more towards bass and percussion than slicing guitars.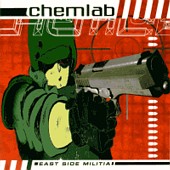 EAST SIDE MILITIA is a different story. Whereas BURN OUT was big and bold, but still possessing plenty of grooves, EAST SIDE is all in your face and scattered gunshots coming from everywhere. Fierce, untamable rock coming at you from every angle.
"Exile on Mainline" cuts you off at the knees with its razor sharp guitars and bomb dropping drums. "Jesus Christ Porno Star" spirals into you with force, cutting and twisting at you until you submit, while "Vera Blue (96/69)" gets you uneasily dancing to danceable, but still plentiful beats.
The "Vera Blue" remix by Pig is a lot more danceable, focusing on the light side of the band rather than the brutal, axe-swinging defense of the guitars. Halo Black's remix of "Exile On Mainline" is a high-octane, fuel-burning trip through acid flashbacks, jungle, and bold beats as well as plenty of fucked-up speed up, slow down and skipping moments. Think your CD player is broken? Nope, it's just the song.
After hearing these two albums, you'll know why it is such a treat that these guys are re-uniting and working on a third full-length. Talk about heavy, enduring, and powerful. These guys are the real shit, and it ain't ever sounded as good as it does on these here damn re-issues. Pick 'em up and feel the music. I'll give them both A+'s.