Hot Stove Jimmy
Theme For A Major Hit (Jump Up! Records)
By: Alex Steininger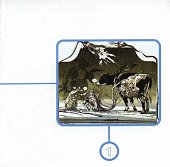 Chicago's ten-piece ska-punk-noise-hardcore outfit Hot Stove Jimmy saw their last full-length produced by the legendary Steve Albini. On their new album, the band takes a harder approach to their ska-punk style, paying homage to the likes of Mr. Bungle and Blue Meanies.

It's one thing to pay homage and another thing to try and mimic. And, mimicking the Blue Meanies is exactly what Hot Stove Jimmy does on their latest, THEME FOR A MAJOR HIT. The album is a confusion of noise, hardcore, and weak ska-punk spread throughout to not completely depart from their ska-punk of the past. The album is a second rate Blue Meanies knock off at best. And, well, the Blue Meanies are the Blue Meanies, and nobody can really attempt their music without sounding foolish. That's exactly how Hot Stove Jimmy comes off: foolish.

If ska's dead, bands like Hot Stove Jimmy helped put the nail in the coffin. When ska-punk was big, they were ska punk, now that hardcore and noise seems to be making, well, noise in the underground, they've re-vamped their sounds for the trends. I'll give this an F.