Southpacific
Constance (Turnbuckle Records)
By: Alex Steininger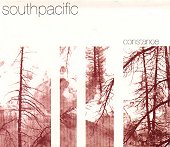 Dizzy, electrifying, and dreamy pop all rolled into one is what Ottawa, Canada's three-piece Southpacific is all about. And they're good at it. On their debut full-length, the band finds time to mesmerize and stun you with captivating melodies, triggering beats, and seductive grooves. Though, with the lack of vocals and their instrumental status, the band's abilities are cut short.

Don't get me wrong. They're an amazing band for what they do. And, what they do, they're damn good at. The sound textures and absorbing melodies they create are second to none, and the intense sensation that runs through all their songs can't be missed. But, after awhile, it all starts to run together and feel similar without vocals helping to define each song. The disc was absolutely great for a few listens, but after that, it grew tiresome. What once hooked and reeled me in, just didn't work anymore.

If you're into instrumental rock, this should be at the top of your list. No questions whatsoever about that. But, if you're looking for some melodic pop or fuzzy rock 'n' roll to sit back and enjoy, this may be a quick solution, but in the long run, it just doesn't do the job. I'll give it a C.