Alanis Morissette
MTV Unplugged (Maverick)
By: Alex Steininger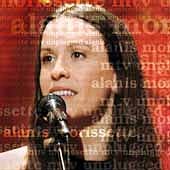 Multi-platinum selling Alanis Morissette, in between another platinum success and her forthcoming album, has decided to release her MTV Unplugged session to tide fans over until her next release hits the stands. Her intense rage (and sometimes whiny-ness) comes across with precision, opting for strings and acoustic guitar rather than full-on rock.

"You Oughta Know," the song that broke Alanis to the mainstream, is toned down, but still as vicious. The words ring louder and more potent, while the strings and gentle-ness of the song showcase the beauty the song wraps itself around. "Head Over Feet," another smash off of JAGGED LITTLE PILL, the album that made her a super star, sounds tender and true, a definite love song that displays the power and emotion Alanis is capable of.

"Ironic," her catch-phrase number, contains a bit of whiny-ness in the vocals, like the modern rock version. But, unlike its modern rock counterpart, the acoustic version seems to have a big amount of emotion and exposed feelings running through it. As do cuts like "You Learn," "No Pressure Over Cappuccino," and "I was Hoping."

Though tracks like "Uninvited" and a cover, "King of Pain", demonstrate how the bigger she gets the more her vocals possess that annoying whine, there are still some solid tracks on here that shouldn't be passed on because you think it's not 'cool' to listen to Alanis. I'll give this a B-.