Koufax
Koufax (Dog House Records)
By: Alex Steininger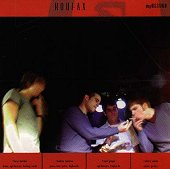 Indie rock-emo-popsters Koufax dish out the hooks with plenty of feelings on their four song EP. The songs jump, bump, and shake with lots of pop, but aren't afraid to rock out or speak straight from the heart.

"A Soundwave Sound" is a dashing indie rock-emo installment from the band, dishing out emotionally driven vocals over a sparkling indie pop-rock backdrop. "Living Alone" finds the band in full on pop gear, dishing out tremendously infectious hooks with plenty of rock drive to back them up. "Going to Happen" and "So Long to You and I" find the band trading in more emo, especially on the latter, though "Going to Happen" still possesses a rock engine to get it going.

Clever pop songs from an indie rock band that isn't afraid to roam around within indie sub-genres. Here is a tight four-song package that will leave you craving a full-length. I'll give it a B.