The Gunga Din
Your Glitter Never Dulls (Jetset Records)
By: Alex Steininger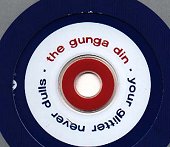 New York's five-piece act The Gunga Din play low-key indie pop with plenty of smoky, illuminating moments coupled with fiery fits of passion and lust-filled beats that will captivate and control, ensuring you beg for more and enjoy every minute of it.

Leading the way is Siobhan Duffy. On "Brave New World" she draws you in with lusty vocals and a mysterious, intriguing tone you just can't get out of your head. All the while, the band transcends low-key indie rock into bouncy, infectious music that has the jingle and jangle to hook and reel you in for the kill. "Glitterati" comforts you with the band's secret weapon, the Farfisa organ, while the band covers your eyes with spy rock. Again, Duffy's vocals seem mysterious and intriguing, coupled with the spy-themed soundtrack behind them, you can't help but feel scared to travel down this dark alley. Though, your curiosity will get the best of you as you open up your ears and mind and let the music do to you whatever it wants to.

"Paradoxia" finds the Farfisa beautifully chirping at you while Bill Bronson (guitar) and Duffy's vocals play together to mess with your mind. The bouncy rhythm section gets you dancing, while Duffy's vocals keep your feet planted to the ground because you're never sure what she's up to or what she's going to do next. A hard decision, the music wins again and you're at its mercy. "Pastel Girl" reels you in with a slow stream of engaging pop while "Repentant Bedfellow" has you sitting back in a dreamy state of mind with its slippery, soft, laid-back demeanor.

The Gunga Din knows how to play with your mind and win every time. As every song passes, you find yourself further and further down the spiral, at their mercy, and loving every minute of it. The music isn't super addictive, but they know how to use what they've got to their advantage, so they still manage to hook you every time. I'll give it a B+.