Hellacopters
Payin' The Dues (Sub Pop)
By: Alex Steininger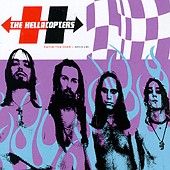 Originally released as an import, PAYIN' THE DUES' popularity compelled Sub Pop to release it in the states, with a bonus disc containing extra live tracks and a few singles. And, as you may or may not know, Sweden's The Hellacopters fit right in with the Detroit rock 'n' roll sound, ripping through bloody rock 'n' roll excitement at every turn. The Iggy Pop and MC5 for the new millennium.

PAYIN' THE DUES is an exciting, vigorous, non-stop rock 'n' roll cruise from stop to finish. The band thrashes out the sounds with intensity, allowing powered up melodies and high-octane grooves to sit right next to bone crunching rhythms and crippling guitar chords. "You Are Nothin'" goes full throttle into some careless, carefree rock mayhem, though still managing to add a hip-shaking groove, while "Looking At Me" knocks the wind out of you with its scorching, sweaty guitars and cracked-pavement rhythms. "Soulseller" is in your face from start to finish, and "Psyched Out An Furious" pushes along with plenty of muscled-up, hot roddin' dynamite that will run you over, unless you join the crowd.

In addition to this ten track disc (eleven cuts on the vinyl) is the eight track (nine on the vinyl) bonus disc that serves up some live thrills, so you can hear how the band unloads all their aggression and furious rock 'n' roll sounds on the road. Just as shit kicking and bone breaking as the album, this two disc set is what rock 'n' roll should always sound like: wild, uncontrollable, and very, very bloody.

Sweden's The Hellacopters know how to deliver the goods. And, after hearing PAYIN' THE DUES, there's no question as to why people went out and bought this despite the $25-$30 import price tag. You can get it for a lot cheaper than that now, with an extra disc, so what are you waiting for? The rock 'n' roll awaits you. I'll give it an A.