F-Minus
F-Minus (Hellcat Records)
By: Alex Steininger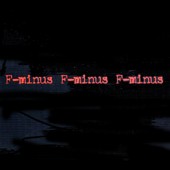 Skull-crushing, adrenaline-pumping, head-on punk rock that doesn't slow down for a bit, F-Minus' drive is undeniable. On their self-titled debut, the band finds themselves ripping through some of the most abrasive, gut-wrenching punk you're likely to hear.

Male and female growls help fill out the vocal duties, while the roar of the guitars and the breaking beats of the rhythm section pound and kick the music into overdrive. "Slave Labor," "Hostage," "Better to Die," and "Someone's Dream" are all your typical, three-chord, non-stop pound 'n' pound punk tunes. But, with the energy this band possesses, there is never a dull moment. They rip the shit out of anything and everything in their way and aren't afraid of a little challenge, because they come back that much stronger and break all those that don't believe in half.

The label name Hellcat should say it all: loud, fast, and in-your-face punk that doesn't give up no matter what the situation. Angry, aggressive, and pure venom, this music defies the word 'rocks'. Whatever it does, it does it hard and fast. I'll give it a B.