22 Jacks
Going North (Side One Dummy)
By: Alex Steininger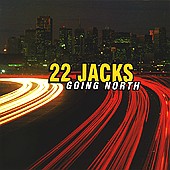 On their third full-length, 22 Jacks walk the line between being a hard-edged pop band and a punk act. The songs are filled with ample amounts of pop and more than a few hard-hitting rhythms. But, they're also equipped with plenty of punk-esque moments, making them a rock act that plays all the cards in their collective hand.

"Somewhere In Between" and "On My Way" both find the band delving into rocking pop grooves while the blood of the band pumps vigorously, making sure everything kicks your ass as well. But, it is in their attempt to be infectiously poppy and uncontrollably wild that the band's sound finds itself being controlled by their own attempts at making it span the sub-genres of rock. Their attempts find the music lacking any real grit; everything seems over-produced and emitting the energy the music wants to have, and the energy their live show possesses.

"All I Can Do," "The Eleventh Hour," and "Without You" are all very infectious pop songs. But, the problem persists throughout the album. Though they are able to conjure up tight pop nuggets that bounce around in your head for a bit, their struggle to be infectious and powerful dampers the spirit of the music. The outcome is a weak pop album that, although catchy, just doesn't seem to want to keep the intensity throughout.

Their previous album, OVERSERVED, packs a few punches, and their live show is about as zany as it gets. But, they fail here to capture the energy of the band. I'll give this a C.