Stubborn All-Stars
Nex Music (Stubborn Records)
By: Alex Steininger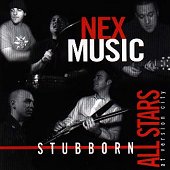 One of the leaders in the third wave's fascination with traditional ska, frontman King Django and crew incorporate rhythm & blues and soul, among others, into their finely crafted ska that is sure to win over anybody that wants to smile, be uplifted, and just dance. Their third full-length, but first for Django's label, Stubborn Records, NEX MUSIC finds the band still shining bright and proving that "Ska's not dead, it's stubborn."

"Take Your Chances," the opening track, rings with happiness and peace via both the lyrics and the music. The lyrics are spiritual, choosing to look at the bright side of things ("Every chance of war is a chance for peace/ We will separate man from beast") rather than dwell on the negative aspects of life. The music is sunny, danceable roots ska, flushed out with mellow, but blistering horns and a sweet, breezy rhythm section.

"Buccaneer Bay" smoothes out even the hardest of skeptics with its gentle, melodic beats and peaceful demeanor. The instrumental provides the perfect backdrop for a lovely evening with a dancing partner or a cozy afternoon near the fireplace. The horns sweat sweet grooves while the rhythm section does what it does best, works with the guitar to provide a crazy dance atmosphere you won't want to pass up on.

Then there is keyboardist Victor Ruggiero (The Slackers frontman), who takes lead vocals on "I'll Never Go Back Home." His smooth, soulful voice glides over the calypso, rocksteady, R&B influenced ska number that he is renowned for creating. He can melt hearts, make feet itch, and bring tears to your eyes with his beautifully crafted masterpieces, as he does on this one.

But, Django is clearing the driving force behind the All-Stars, and his talents are equally impressive, as songs like "No Hay Luz," a Spanish number, "Wash Away Evil," a reggae piece, and "Not Like A Star" will attest too. The latter being dub, another style this band incorporates into their overall sound, and one they shine on when hitting it dead on.

Traditional ska, and ska for that matter, will always be around if bands like the Stubborn All-Stars are here to bring it to us. Their genuine love for the music and willingness to stick with it through thick and thin comes across in their music. The band is a fan of roots music from tropical islands, and as such, has no problem warming up your body and soul with dancing, plentiful grooves you won't soon forget. I'll give it an A.