VARIOUS ARTISTS: Dogma
Music From The Motion Picture - Original Music By Howard Shore (Maverick Recording Company)
By: Alex Steininger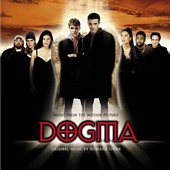 The new film from writer/director Kevin Smith ("Clerks," "Chasing Amy"), DOGMA, has already started to gain a buzz through its controversial take on religious doctrines. Supporting the film is the soundtrack, comprised of nine new songs from composer and conductor Howard Shore ("Philadelphia," "Seven," and "The Silence of the Lambs") and one new song from Alanis Morissette, "Still".

"Still", which starts the album off, is a whiny, sleeper pop song that finds Morissette at the peak of her annoying ability. From there, the album travels through the suspenseful, joyous, dark, and action-packed thrills of the London Philharmonic Orchestra with the London Voices and The Center for Young Musicians making appearances as well.

The album takes a hit with the Morissette song, especially starting off with it. But, the solid conducting, masterful playing of the London Philharmonic Orchestra, and the intensity of the remaining music helps save it a bit. I'll give it a C.