Spoon
The Agony of Laffitte (Saddle Creek)
By: Alex Steininger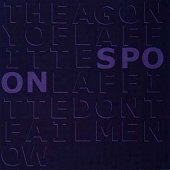 Releasing their debut on Matador and their follow-up full-length on Elektra, four months later they found themselves in an all too common situation: the major label dropped them. Bouncing back, this CD single contains two songs that deal with their A&R guy and the situation of being dropped.

Though, this would be better suited as a 7" (2 songs make a lousy CD), the songs are strong. Folk-styled indie rock, Spoon feed you two tracks that prove they've matured and grown up a bit. Strong beats bounce around in your head while the laid-back style gives off a very folk-y feel. The CD is even pretty cool, and unlike anything I've seen before. Since there are only two songs, a lot of the CD is just clear plastic that means nothing, with the silver portion of the CD set in the middle containing the two songs. It looks like a design at first glance, but you soon realize its not, which makes it pretty cool to look at and hold. And, too listen too, of course.

Still, I think it would be better as a 7". As soon as you pop in the CD it seems to be over. Oh well. It's still a nice little thing to have. I'll give it a C-.