Sixteen Deluxe
The Moonman is Blue EP (Sugar Fix/Figure 8)
By: Alex Steininger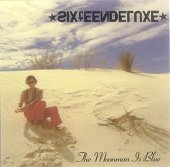 It's the typical story most bands tell after high hopes and expectations fall short and they find themselves without their major label contract. But, unlike the hordes of other bands that have experienced this, Sixteen Deluxe didn't take the easy way out. They didn't break up or 'mutually separate'. They kept their new music visions within the band, built a studio for friends, local bands and, of course, Sixteen Deluxe, to record in. They also started their own indie label, Figure 8 Recordings, in conjunction with Los Angeles based indie Sugar Fix. The results of all these occurrences is their new EP, THE MOONMAN IS BLUE, a taste of their new musical vision and what to expect on the forthcoming full-length.

Album opener "Sibhashian" is a melodic swirl of cosmic rock energy. The female vocals swim around in your head with a soft, yet abrasive touch to them while the echoing of the drums rip through the air, jangling and popping throughout. The guitars fly, and you're quickly skyrocketed into outer space.

"The 1st Go-Round" possesses the same sonic charm and driven rock beats, with the same melodic torch burning brightly. Of course, album closer "At the Fallout" is no different. But, this time around a male takes lead vocals and the band calms down a bit. Instead of cranking out hyperactive, sugar-buzzing rock nuggets, a cool breeze of indie pop floats harmlessly into your ears, relaxing and soothing.

You know, I'm sensing yet another common thread. Great band gets dropped because the label fails to promote and market talent on a mass level, opting instead to go with what the consumers will happily choke on. If this is the by-product of them being dropped, I'm glad it happened. This is one stellar EP sure to leave a long-lasting impression with all that hear it.