Ralph
Olympia 66 (Bongo Beat Records)
By: Gary Pig Gold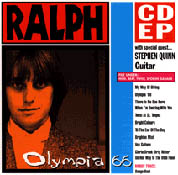 It takes one heck of a visionary, especially in these most recklessly revisionary of times, to make that vital if all-but-forgotten link between the Fifties and the Sixties - between the Beats and the Beatles, if you would.

Ralph Alfonso, who first carved a name for himself as one of the architects behind the Canadian punk scene yea so many years ago, can currently be found operating from on the stage, and this disc bongoramically captures one recent 29-minute trip in speak and song he made down Memory Alley, via Greenwich Village through Carnaby Street and beyond, accompanied by guitarist Stephen Quinn of Vancouver's very own Thrill Squad.

A journey which originally appeared on the pages of his fabled "Ralph" zine, OLYMPIA 66 is no more, no less than one insightful forty-year-old's rear view on Life, Lambrettas and even Luv - er, Love (check out that creamery ballad "Bright Colours"!) ...but thankfully minus the lofty, moldy hyperbull which often clings to most lesser socio/musical studies.

You see, Ralph's never been afraid to whistle while he works, and ultimately inform and enlighten as he entertains, which is why this record really can and does run circles 'round others of its ilk. As a happy result then, one can now safely chuck all those Time-Life and PBS Sixties Histories back under the coffee table where they've always belonged in order to bop'n'groove instead into yesteryear, coyly yet coolly armed with the best in digital travel guides one could ever hope to hear: the Man they call Ralph.