Mike Ness
Under the Influences (Time Bomb Recordings)
By: Alex Steininger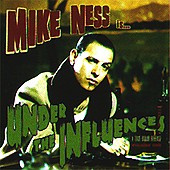 Social Distortion frontman Mike Ness is back at it again, showing fans his other side, primitive rock 'n' roll and tender ballads, a style which has influenced him throughout his twenty year career. On his second solo album (the first being CHEATING AT SOLITAIRE, released earlier in '99), Ness covers twelve artists who've greatly influenced him, while also re-doing a Social D. standard in country fashion.

One of country music's more obscure figures, but a man who has penned hits for such major acts as Elvis Presley, Eddie Cochran, and Patsy Cline, Ness covers "All I Can Do Is Cry," one of the few tunes both written and performed by Wayne Walker. A rock-a-billy stomp cruises over a country pulse as Ness rocks it up with his trademark punk rock voice and knack for creating slick rock with a gentle and hard side.

On the Bobby Fuller Four classic "I Fought The Law," Ness takes things even further as he explores the massive pop hit with a harder hitting rock outlook. The rhythm section is fiery, while the guitar lies off a bit, spilling out sly riffs rather than over powering everything and taking center stage.

Then there is the album standout of "Big Iron," a song from a 1959 concept album called GUNFIGHTER BALLADS AND TRAIL SONGS [recently re-issued with new linear notes on Legacy/Columbia] by country legend Marty Robbins. Robbins' original is a heart-warming ballad that is tender and smooth, but, through the lyrics, still possesses a good kick in the butt. Of course, Ness takes that kick and turns it into a lethal 1-2 combo, knocking out anyone in the way with a ferocious rhythm, slippery guitars, and an undeniable pulse running through Ness' classic, distinct tough guy voice.

But, Ness does manage to get soft and romantic. "One More Time," a must hear by country legend Hank Williams, Sr., Ness smoothes things out with a lounge-jazz style Tenor saxophone while his voice goes from tough to sensitive guy with a steady tremble shaking it throughout as he pours out his heart and lives through Hank Sr.'s music.

The rocking country of "Six More Miles," originally done by Jean Shepard, gets you dancing with a wicked fiddle and a stomping beat not to be missed. Then there is the crying in your beer country of "Once A Day." The tears flow as the pedal steel oozes through the song and brings them down. Then there is The Carter Family's "Wildwood Flower," an uplifting country stomper that will start the dancing back up.

Ending the album is "Ball and Chain (Honky Tonk)," the classic Social Distortion re-done to fit in with Ness' live show and, yes, his solo albums. If you thought this bad luck tale made you cry when the roaring guitars, neck-breaking drums and bass, and punk growl hit you the first time you heard Social D. do this one, wait until you hear this version. The country tone of this song makes the tears roll even more as it goes from angry punk to contemplative country.

Ness once again shines on his second solo album. What's more is he has good taste. The material he covers on this album has not just influenced him, but a whole generation (or two) of pivotal songwriters. Here's to the classics, which will never grow old. I'll give it an A.