Mark Lanegan
I'll Take Care Of You (Sub Pop)
By: Alex Steininger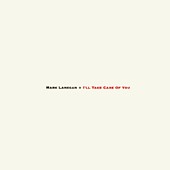 Best known as vocalist for Screaming Trees, Mark Lanegan is also an accomplished solo artist who has put out three nicely received solo albums. Now, on his forth solo album, he has decided to cover the artists of his past that have influenced him greatly. Covers of Jeffrey Lee Pierce, Buck Owens, The Leaving Trains, and others help fill out this eleven track disc with solid playing that finds Mark's deep voice and light acoustic guitar the perfect couple.

"Carry Home," written by Jeffrey Lee Pierce of The Gun Club, is a delicate mixture of light, relaxing acoustic notes and dark, seductive vocals that are rugged and gentle, taking control and easing your wounds, all the while entertaining.

The Leaving Trains' "Creeping Coastline of Lights," with Soundgarden's Ben Shepherd appearing on bass and Dinosaur Jr.'s Mike Johnson on electric guitar (on "Carry Home" you can find him playing acoustic guitar), transforms into a windy, haunting number when Lanegan gets his hands on it. "On Jesus' Program," with Shepherd and Johnson once again on bass and electric guitar, as well as Mark Boquist on drums (who can also be found doing drums on "Creeping Coastline of Lights"), crawls along with deep soul and a dark shadow looming over it as Lanegan rides through the desolate roads towards the light. "Consider Me," the album's standout cut, finds Lanegan brightening up the album with some folk-pop coated with a catchy melody and just the right amount of bounce to really get you hooked.

On his forth solo album, Lanegan creates mood setting music that is equal parts dark and uplifting. The desolate tone is flushed out with the optimism and relaxed happiness that flows through the album, but Lanegan still makes you aware of it so you don't forget it. I'll give the album a B+.