Bob Delevante
Porchlight (Relay Records)
By: Alex Steininger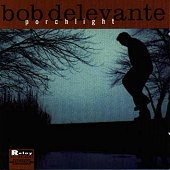 New Jersey-based singer-songwriter, Bob Delevante brings forth plenty of Americana roots rock on his debut solo album. Country, folk, and rock 'n' roll share equal portions of the spotlight, while also tying into each other proportionately, giving the record an Americana feel that is hard to beat.

The opening track, "1000 Miles To Go," is a blue-collar rocker, planted in the hard working soil of the working man, grasping ahold of life and taking control of it. At the forefront are the stomping rock beats that drive the song, while the country sits peacefully in the backdrop, giving another dimension to draw you in. Then there is "Gravity Takes Hold," a tingling country number that you'll find yourself drinking and relaxing too or, if you so desire, the beat is there to jump right in and dance with.

The title track offers up some sunrise hope, promising that each new day is another chance to fulfill your life goals and for you to take control of your destiny and do what you need to do to make yourself happy. Wrapped around a country-folk style, the song's bleeding heart optimism rubs off on you and puts a glimmer in your eyes that sparkles with goodness. Suddenly, a feeling of warmth runs through your body, and you know that no matter what, you're going to make good on your promises to yourself and everything is going to get better.

"Knockerboy" offers up plenty of country grooves that grab ahold of you and make your feet start shaking, aching to get on the dance floor and just kick back to have some fun. "Simple As That" will find you either continuing to dance, moving to the rock grooves and country heart that runs through the song, or you'll be sitting down listening to the lyrics and trying to fully take them in.

Bob Delevante writes solid songs that offer up so many possibilities. He writes tunes with deep grooves you can jump up and dance too, numbers you find yourself thinking about while the song rolls by, or songs you can't help but smile too while you're listening to them. The songs are optimistic, hopeful, and filled with cheer, despite the dark tint cast throughout the album. And, because of the optimism spread throughout the album, you'll walk away with a new lease on life. Or, at least the positive attitude that no matter what problems you're facing, you can overcome them. I'll give this an A.