Bright Eyes
Every Day and Every Night (Saddle Creek)
By: Alex Steininger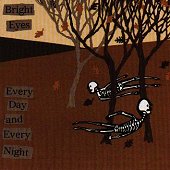 Conor Oberst, singer-songwriter for Bright Eyes, writes truly emotional, tender, depressing tunes that revolve around an indie-rock atmosphere while also implementing elements of folk and pop throughout. Struggling to cope with his own demons, he battles them out in this five-song EP sure to make you see the world, if just for a bit, through the eyes of this beaten soul trying to cope with life as he knows it.

"A Line Allows Progress, A Circle Does Not" is a haunting pop song that finds Conor shaking with his insecure-sounding voice trembling with fear and pain, while trying so desperately to repair itself and find a way to the path that is going to lead to happiness. Then there is "A Perfect Sonnet," the standout track on the album. Tender and emotionally driven, the folk-inspired indie rocker finds Conor's voice crying with words, ready to break down and give it all up without notice. But, there is an optimistic twist at the end, though Conor's aching, bleeding voice doesn't grasp it, or rather tries to grasp it, but can't. Instead, it sweats and trembles more and more, hoping to find the optimistic end the lyrics leave on. The other three songs on the EP, though good, don't match the power and realism of the two openers. But, are strong nonetheless.

Here is one of the Midwest's best-kept singer-songwriter secrets. Bright Eyes are young, but with emotional, thought-provoking lyrics at this age, there is no telling what will come as the years progress. Do yourself a favor and year about it before it's the 'next big thing' and everyone is into it. I'll give this a B+.