Blue Dogs
Letters from Round 0 (Black River Records)
By: Alex Steininger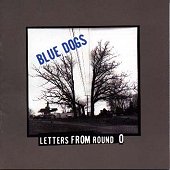 The Charleston, South Carolina quartet, Blue Dogs, blur the line between country and rock 'n' roll (hereon known as 'roots rock') on their David Lowery (Cracker) produced album, LETTERS FROM ROUND 0. A heart-warming record, LETTERS FROM ROUND 0 combines strong lyrics, solid rhythms, and guitar hooks to form a roots rock sound that is as energetic and powerful as it is tender.

"Isabelle" and "Sister" display the band's ability to write powerful pop songs. Both songs are lined with infectious hooks forwarded by a hearty amount of care and honesty, which instantly catch your attention and ring in your head. Supplemented with country, the roots rock blood flows through the song while the pop-rock front sparkles.

The country jam of "Cousin Homer's Anything Goes Dance Hall" quickly gets your feet moving, putting a smile on your face and a spring in your step. The funk of "What I Want" once again gets you grooving, dancing and laughing while the music takes your worries away for a few minutes so you can enjoy the song, kick back, and just have a ball.

"Pay the Man" reflects the band's blues influences, as they pay homage to the likes of Taj Mahal and other blues legends that have influenced throughout their lives. Burning with passion, the song's easy-going nature is just a smoke screen for the fiery song that burns underneath.

Ending with "Carolina Heartache," with David Lowery contributing lead vocals, the band settles down with a tender country number sure to get you sitting down and listening as the music flows through your blood and bones and gently relaxes you.

The CD encompasses a musical map that goes from rock to blues and country to funk, though they pull it all together with a lot of fun and honesty. Here is a solid album sure to find genre-hopping roots fans' appetites satisfied. I'll give it a B+.