98 Degrees
This Christmas (Universal Records)
By: Alex Steininger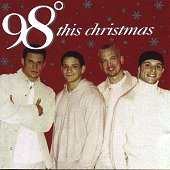 Multi-platinum boy group 98 Degrees, hot off the success from their sophomore release, 98 DEGREES AND RISING (Universal), have just released a Christmas album to please their legions of female fans everywhere.

The thing is, during the Christmas holidays a good Christmas album is always in order, and the best Christmas albums are the ones where the group can sing, the songs (and their voices) are tender, and the soul of the album invokes pleasant dreams and good wishes. And, 98 Degrees manage to pull this off with perfection.

Despite what I may think of them, despite what you may think of them, and despite the fact they are most definitely a contrived group designed to sell records to little girls everywhere, the fact remains they can sing. As brutal as that is to admit, it's the truth. So, songs like "If Every Day Could Be Christmas," "The Christmas Song (Chestnuts Roasting On An Open Fire)," "Oh Holy Night," "Little Drummer Boy," "Silent Night," and "Ave Maria" are all modern vocal pop songs which will warm you up during the holiday season.

If you're looking for a good pop album with lush vocal harmonies, tender romanticism throughout, and nicely produced song packages, this just might be the Christmas album for you. As long as you are not too ashamed to admit you might like it. I'll give it a B+.