VARIOUS ARTISTS
Greetings from the Welfare State (BYO Records)
By: Alex Steininger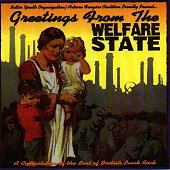 Twenty punk bands, ranging in style from street punk to pop-punk, contribute one track each on GREETINS FROM THE WELFARE STATE. Though, the problem that is most commonly associated with punk compilations occurs here. Diverse compilations usually are lackluster because the sound jumps from one style to another, with nothing, for the most part, tying them together. But, when all the songs are identical in style, except for a few differences here and there, it suffers the same fate. After listening to twenty bands straight, all of them start to sound the same, making you lose all interest in the disc.

Good punk acts like Road Rage, Four Letter Word, Snuff, Citizen Fish, Leatherface, Silencer 7, Red Flag 77, and Consumed all give the compilation a nice edge, but even with their help, the disc still suffers a deadly fate. As time passes, all the bands, regardless, start to sound the same and the energy the album is filled with quickly diminishes.

For a few tracks you'll really be able to get into it, but with each passing track after that, you'll grow more and more tired of the same old band doing the same old thing. And, once that happens, the power is all but gone, leaving you craving more. I'll give it a C-.