Swingin Utters/Youth Brigade
BYO Split Series Volume II (BYO Records)
By: Alex Steininger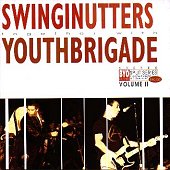 San Francisco's Swingin Utters team up with legendary punkers Youth Brigade for volume II of BYO's split record series. Bringing forth their punk rock in the spirit of '77, with a heavy Brit-Punk influence, Swingin Utters quickly draw you in before Youth Brigade kicks your ass three times over.

Swingin Utters start off the split with six juicy, action-packed punk ditties sure to find you jumping, bouncing, and singing along. Quite infectious, if you don't find yourself drawn in, you obviously just don't get it. "Angels Pissing On Your Head" is a high-octave, fuel burning punk rocker surrounded by melody and ample pop. "Mother of the Mad" is a quick, to-the-point number that brings in Irish drinking music influences. With the fighting Irish spirit wrapped around D.I.Y. punk energy, nothing stands in the song's way as it infects your head and quickly becomes a favorite of yours. "Troubadour" and "'39," two entirely different cuts, show the diversity of the band. The first, a hard-punching rocker, and the second a smooth Irish folk number, are both equally enticing and addictive, though.

On the Youth Brigade portion, everything is turned up a notch as the band increases the energy level of the disc and rips through some of the fastest, most aggressive punk you're likely to hear. "Where Are All the Old Man Bars" is a melodic punk stomper while "Fuck You" is an in-your-face blast of punk fury. Then there is "It's Not Like That Anymore," a head-on collision with power and anger that results in a sharp punk blow to the face.

If you're looking for good punk, here is a chance to have two band's EP's on one convenient disc. Get warmed up with Swingin Utters and then lose complete control with Youth Brigade. It's what punk rock is all about. I'll give this album a B+.