Consumed
Hit For Six (Fat Wreck Chords)
By: Alex Steininger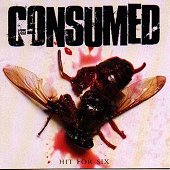 Hailing from Sherwood Forest, located in Nottinghamshire, England, the Robin Hood loving foursome known as Consumed blast out pop-punk nuggets boosted with rocket fuel and plenty of venom. On their debut full-length, the band fits in perfectly with the Fat roster, serving up typical pop-punk with a razor sharp twist.

It's true, Consumed embraces the typical, beat to death pop-punk sound commonly referred to as skate punk or hardcore pop-punk. And, though the songs suffer from the plague, typically referred to as the 'Fat Sound,' referring to the band's label, Fat Wreck Chords, the band still has some ass-kicking beats to make you sit up and listen.

Songs like "Twat Called Maurice" "Wake Up With A Smile," and "King Kong Song" all find the band at the top of their game, churning out loud, abrasive, hard-hitting melodic punk with hardcore rearing its face now and then. It's songs like these, and the power they possess, that help make the band more than your run-of-the-mill pop-punk act.

As a whole, the album is a decent, already-been-done collection of sound-alike pop-punk tunes. But, taken apart, each song has enough engine thrust to kick some ass. The whole is not greater than the sum of all its parts, so don't expect much. And, if you don't expect much, what is here will give you something to punk out too. I'll give it a C.