SHOW REVIEW: Imperial Teen/Love As Laughter/Les Savy Fav
November 5, 1999 - Portland, Oregon (EJ's)
By: Sonya Brown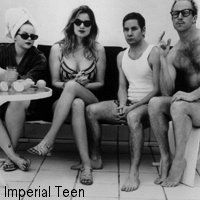 After missing the last 3 tours of San Francisco's Imperial Teen, I finally made it to their EJ's appearance on Nov. 5th, 1999.

I have been enjoying Imperial Teen every since I purchased their CD "Seasick" well over 2 years ago; mainly due to the airplay that the song, "You're One", was getting at the time. I rarely purchase a CD based on one track, but I really liked that little tune; and while I found it to be a bit "pop" for my tastes, something about the dark lyrics lured me in. It could have also had something to do with the fact that Faith No More's Roddy Bottum was in the band. I have been a Faith No More fan for several years, but all comparisons to Faith No More and Imperial Teen begin and end with Roddy Bottum. Imperial Teen combines what might be considered bubblegum-pop, with female backing vocals and melodic guitars; but they also combine some very twisted lyrics dripping with pain and anguish. Imperial Teen was formed in 1994 as an outlet for some personal demons that Roddy was facing. Take for example, the song "Butch" which was written about the death of his friend, Kurt Cobain, "...and death is worth the price of fame..."; or "Copafeelia", which is a rather unflattering portrayal of Courtney Love (Courtney did a very brief stint with Faith No More, however, she was kicked out sometime around 1985).

Based on this bands turbulent history, and the fact that Seasick had become one of the staple CD's in my collection - I was really looking forward to their show.

The first band to play that night, "Les Savy Fav", was very energetic, and pretty much trashed the stage, but I was silently wishing they would wrap it up so we could get on with Imperial Teen. The next band in the line-up, Love As Laughter, also followed the "punk" genre, however they didn't seem to stay on-stage quite so long. I liked the duct-tape letters they wore on their shirts, in case anyone was in doubt as to what their specialty might be... such as "VOX" taped across the chest of the vocalist, "DRM" on the drummer, "GTR" on the guitar player, and, well, you get the gist. They seemed to hold interest as the crowd began to build up in anticipation of Imperial Teen. (Read a review of Love As Laughter's new record: Destination 2000)

Finally Imperial Teen took the stage, and I felt very fortunate for my stage-front position with such a wonderful vantage point of not only the band, but THE Roddy Bottum himself - and I was wishing for my camera the entire time. They started off with some new material, and performed quite a few new songs that night, including "Lipstick" from their early 1999 release "What Is Not To Love".

I waited patiently for my favorites, and was not disappointed; but they did not perform "You're One", or "Imperial Teen" which I found rather surprising. They did, however, perform "Butch", "Waterboy", and "Balloon" from the "Seasick" cd.

The line-up of Imperial Teen consists of Roddy Bottum, guitar & vocals ; Will Schwarz, vocals & guitar; Jone Stebbings, bass; and Lynn Perko, drums; however there seemed to be a bit of role-switching during the set. Roddy took over on the drums during a short portion of the set, and Lynn & Jone continually helped out with vocals.... and for awhile I seemed to loose track of exactly who was doing what. It was such a refreshing treat to hear such talented women on-stage. I also adore Will's vocals, which harmonized perfectly with the female vocals. Imperial Teen seems almost to be a spoof of teen angst-ridden pop, with Will singing "I'm not dressed for this climate, someone take me to the mall" in one moment; and "pulled the trigger, ignored the stain", in another - you get that feeling of those turbulent and emotional teen years. At least I know that I do.

Imperial Teen seems to favor Portland for some reason, honoring us with several performances each year, and I will definitely see them next time they are in town. Their melody pulls you in to a false sense of warm security, and then the dark lyrics sorta' sneak up and blind-side you. I like that.