Sasha
Xpander EP (Ultra Records)
By: Alex Steininger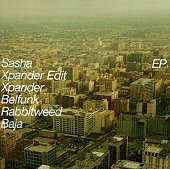 Internationally known DJ, producer, and mixer, Sasha is an electronica-dance name those familiar with the genre should know by now. On his latest, XPANDER EP, he proves just why he is one of the hottest, most innovative creators of electronica music out there. Fresh beats, intrigue, and plenty of excitement, his brand of electronica stands out amongst the crop of other bands.

All five songs on this EP - "Xpander Edit," "Xpander," "Belfunk," "Rabbitweed," and "Baja" - are all soaring, bass-heavy, excitable tracks perfect to hit the dance floor too. Sweat coming out of every one of your pours, as well as the music's pours, the intensity heightens with every passing minute, as you're cerebrally attached with some of the liveliest sounds around.

If you're looking for some of the best, you'll find it here. Sasha plays the part of musician, producer, and mixer well throughout (although he doesn't produce, write, or mix the entire album). I'll give this a B.