Willie Nelson
Stardust (Legacy/Columbia)
By: Alex Steininger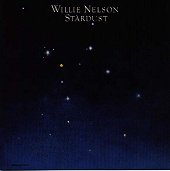 In 1978 Willie Nelson, one of the Texas-based "outlaws" of country music, undertook a very peculiar project. Even though he is quite the songwriter himself, composing some of Nashville's most personal songs, like "Hello, Walls," "Crazy," and "Night Life," he gathered up his band and recorded an entire album of songs in which he'd grown up on. Now, with new liner notes from album producer Booker T. Jones (of Booker T. and the MGs fame), additional liner notes from Nelson's longtime harmonica player, Mickey Raphael, and previously unreleased tracks from the original sessions, Legacy/Columbia hits gold with this re-release of a treasure.

Like a lounge act, this album sparkles through slow, elegant, enchanting numbers that take your breath away with their beauty and simplicity. Willie sings with his heart, capturing your souls with his gentle tone. The light rhythm section glides through each song while his subtle guitar adds just the right bit of sensation. Jazzy pianos sprinkle their way throughout the disc, too, making it as glitzy as possible, while still keeping things down to earth and simplistic.

Take "Stardust" or "Georgia on My Mind" for instance. Willie's voice leads the way with its non-assuming, easy-going nature while the backing band shines in the background like a distant star. You can feel its presence and hear it, but the backing band doesn't over power or over-indulge; rather, they do just that - back up Nelson - and set the right mood for Nelson to capture your heads and hearts.

"Unchained Melody" feels and sounds like a Vegas lounge act, with more heart and depth. "Moonlight In Vermont" also shines with its romantic tone and heartwarming sensations. Of course, the two bonus tracks, "Scarlet Ribbons" and "I Can See Clearly Now," hit you right in the heart with so much honesty and emotions that you'd swear Willie Nelson wrote these himself.

Usually cover albums aren't done with this much passion or realism. Of course, well-respected and well-known artists don't usually record and release an entire album of cover songs. But, then this is Willie Nelson we're talking about, and nothing is out of the ordinary with this rock solid songwriter and country legend. Here he finds himself having fun and delving into songs he grew up on while adding his own touch and giving the listener a shining album of great music; I'll give it an A+.