Meg Lee Chin
Piece and Love (Invisible Records)
By: Alex Steininger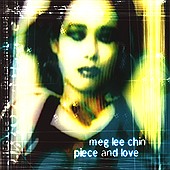 On her solo debut, former Pigface member Meg Lee Chin cuts through all the shit that is clogging up the market with her own rocket-propelled blast of electronic-induced techno-industrial-dance music. Setting fire to everything it touches, her voice is ferocious and pure, striking and tough, and, most importantly, cunning. Industrial music has never been this infectious.

"Thing" quickly gets the blood pumping with the danceable, yet razor sharp beats it packs in tightly wrapped punches. One minute you're grooving to the music and having a blast and then the music goes boom and a fury of guitars and screams knock you to the ground. And even though she's screaming, she still manages to get her voice echoing in your head as your lips start to move and your body shakes to the pounding sounds that are being created.

"Nutopia" takes you to an entire different place than "Thing." Instead of screaming, she either is talking or singing beautifully. Her voice is just like a woman, it lures you in, and when you're hooked, things start to get scary.

"Bottle" is a spinning head-trip of sounds. The keyboards hum while the drum machine shakes. Her voice is dark and enchanting; you'll either be taken away by it or the infectious dance-electronica that underlines the song will get you.

The engaging "London" will find you consumed by her strikingly beautiful voice while slashes of guitar will cut through you with a gentle, but forceful blow. "Deeper"'s funky dance groove will set you spinning while "Swallowing You (Subgenius Mix)" will echo around in your head and send you on a better trip than most illicit drugs available on the market.

This is probably the best album released on Invisible Records ever (though I haven't heard their whole catalog). It's sheer brilliance. It can shatter or it can comfort. Meg Lee Chin is a major talent in both the industrial and electronica fields, and should be thought of as such. Here is a solid solo debut. I'll give it an A+.