Popland
Groovy (KAMCO Records)
By: Gary "Pig" Gold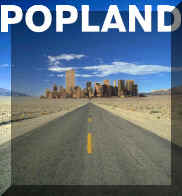 It's always a delicious surprise indeed when it turns out that friends, fans, writers and/or supporters-in-general of a specific (musical) genre or cause turn out to be amongst their favored idiom's most exemplary practitioners as well! Such is more than the case with world-renowned pop enthusiast Kevin Mathews.

From his virtual home base in deepest darkest Singapore, I kid you not, Kevin's been championing -- all over the Internet and then some -- his special kinda pet sounds for many years now. And now he's put his vocal chords where his mouth is! Alongside partner-in-pop Tim Nolan, GROOVY is a more than delightful mixture of both out-and-out hop-rockin' treasures ("There She Stands" is no less than Spector-by-way-of-Searchers, complete with SoCal64-styled vocals) and gentle, acoustic-guitar-propelled wonders ("Here," "Past Tense" and especially the Townshend-esque "Beautiful" are the kind of powerfully understated works only Phil Angotti and Scott McCarl seem to excel at these days).

Don't for a second believe it, then, when this disc kicks off with a blasphemous little ditty called "Never Liked The Beatles": Popland DO wallow waist-deep in all things Fab, and as a result have produced a record which can stand proudly alongside EITHER of those "Yellow Submarine" albums!