Johnny Dowd
Pictures From Life's Other Side (Koch Entertainment)
By: Gary "Pig" Gold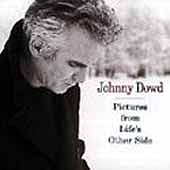 I sure had a feeling something was up when a strange little disc called WRONG SIDE OF MEMPHIS, written and solely performed by a forty-nine-year-old moving man name of Johnny Dowd, first appeared in my mailbox quite some time back. That sparse and bountifully bleak beauty has found itself widely and deeply hailed in the years ever since and quite rightfully so, Period, in my at this point far from humble opinion.

But now comes the dreaded Sophomore Effort - more often than not the sheer litmus test in all such endeavors -- and BOY am I relieved to report PICTURES FROM LIFE'S OTHER SIDE not only matches the impact of Johnny's debut album, blow for sonic blow, but actually even surpasses it. Really! This is in no small way due to the efforts of the newly acquired Johnny Dowd Band (keyboardist Mike Edmondson, additional vocalist Kim Sherwood-Caso, and especially drummist-and-then-some Brian Wilson). For the past couple of years said combo have been delightfully terrifying audiences from here to Helsinki and back, and several of the reasons why these shows have been so universally acclaimed are somehow captured herein, with every speck of their grisly glory intact (I cite but three gender-specific examples for present purposes: "God Created Woman," "Mystery Woman," and the wholly undoubtable "No Woman's Flesh But Hers").

Yet for all WRONG SIDE-headed fans of the classic introductory, stripped-near-bare Dowd, PICTURES also offers such stark howls at the darkside as "Ballad Of Lonnie Wolf," "Blood Evidence" and "Wish I'd Been Honest," the latter, like PICTURES' title track, bravely raising the specter of dear dead Hank Sr. to boot. As if that alone wasn't tough enough to fully pull off, "Bad Memories" is the solitary tune I've heard these past two decades to successfully tackle the modus-operandi of fellow cornfed genius Jandek (a fellow Texan too, perhaps coincidentally); very conversely, "Butcher's Son," in a just and fair world, would this minute be giving Garth's latest incarnation a run up the C&W and/or Pop Top Ten.

But Wait! Add to this already over-flowing musical plate a Lost Lennon Tape That Never Was ("Hope You Don't Mind"), a rubberneck-worthy Woody Guthrie / Tom Waits collision ("Just Because") and a mercifully succinct Vietnam overview that manages to fuse Coppola with no less than SMILE-era Brian Wilson --- the OTHER Brian Wilson, that is --- and you have, in PICTURES FROM LIFE'S OTHER SIDE, one of the most challenging yet ultimately rewarding socio-musical experiences any of us, at this very late stage in our game, have a right to even dream of.

Conclusion then? Buy this record. Play it at least once each and every morning. And of course don't dare forget to visit Johnny Dowd the very next time he plays within a thousand miles of your Discman. You all honestly deserve nothing less and shall really thereafter require little more.