The Pietasters
Awesome Mix Tape #6 (Hellcat Records)
By: Alex Steininger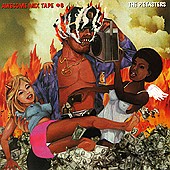 The Pietasters have taken their already loveable ska sound and diversified. The outcome is a blend of their already proven ska, rocksteady, pop, and punk sounds with soul and reggae thrown in for good measures. AWESOME MIX TAPE #6 sounds like just that, a good mix tape, though the cohesiveness always re-assures you that you're listening to the same band track after track.

"Chain Reaction" begins the album with some true Jamaican ska grooves; the power and intensity are refreshing, making sure the song is modern and their own, but the flavor and foundation are undeniably rooted in ska. Then there is "Yesterday's Over," possessing a mod-rock 'n' roll crunch with pop hooks flying all over the place.

As "Everyday With You" will attest to, the band refuses to stay in one style too long. The calypso infused Latin number once again finds the band cutting their own path in a new direction while re-assuring the listener of the validity that this is indeed a Pietasters cut.

Of course, it's hard to hide your punk rock roots when you grew up in D.C. listening to the likes Minor Threat. "What I Do" is a blast of punk rock aggression; though, they still manage to slip in some pop spirit throughout.

"Spiderview" finds the band delving into some soul-ska while "Somebody" reaches even deeper into the band's soul influences. Ending with "Dub-Fi (superdeformed mix)," the band finishes off with yet another face: the Jamaican dub side to themselves.

Whereas their last Hellcat Records effort, WILLIS, was rooted in rock 'n' roll and ska, AWESOME MIX TAPE #6 is all over the place -- in a good way, too. They're not afraid to experiment or play their influence cards, and it really shows on this album. From start to finish you'll be enjoying yourself. I'll give it an A-.