John Brown's Body
Among Them (Shanachie)
By: Alex Steininger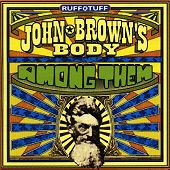 Boston's John Brown's Body, a reggae septet, speaks from their heart and soul, and it comes across in their music. Listening to their Shanachie debut, AMONG THEM, you feel the love pouring out of every note they play and every word they sing; they speak to your soul and help warm it up at the same time. The dancehall, dub, and overall Jamaican flavors of their music are rich and ripe, profound and spiritual, putting their faith in God and pushing everything forward to help those who need it the most. Their album is not only a good time, it is a near-religious experience.

They gracefully pour through modern reggae joy throughout the album, but especially on tracks like "Among Them," "This Is Not the End," "Music Is My Only Friend," and "Tell Me Something." "Ziontific Dub" unleashes some pure dub for the listener to get into and enjoy. Then there are cuts like ""Thank You Oh Lord" and "Singers & Players," which possess tremendously beautiful and warm vocal leads which would melt even the hardest of souls.

So much can be said about a band that can reach you on an entertaining and spiritual level; John Brown's Body is one of these bands. They search deep inside themselves to deliver the purest, warmest, friendliest, and most uplifting work they can. The album hits the spot; I'll give it an A.