The Rockinghams
Makin' Bacon (Not Lame Limited)
By: Alex Steininger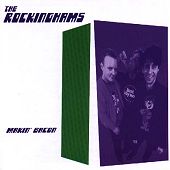 Seattle's Jim Basnight, former frontman for the late 70's/early 80's Northwest punk band the Moberlys, is back at it again with his latest band, The Rockinghams. Their latest release, MAKIN' BACON, shows the punk power of old fused with his pop sensibilities.

"Played A Trick" is a bouncy, infectious guitar-driven pop number that will grab you by the ankles and pull the floor out from underneath you. It's Glam-meets-punk fuel seems to take center stage for a majority of the song, but the pop always manages to show its face with delicious breaths of juicy hooks.

"Lattes" is a comical, quirky pop song that demonstrates the fun, youthfulness of the band and their tongue-in-cheek take on life. Considering they hail from Seattle, the coffee craze capitol of the U.S., the song is both hysterical and all too real.

Then there is "More Than One Way," an 80's rock number waking up in the 90's with pop pumping itself into its bloodline. "Uncertain" is a sleazy bar rocker while "Rock and Roll Cowboy" is a wild, NY rock 'n' roller crossed with some wacky antics and a pop twist.

The album isn't always consistent, or completely strong, but it is fun. It bounces, shakes, and moves like rock, but always has the sweet taste of pop hiding behind the distorted guitars. Once you're in the mood, you're in the mood. If not, you may find yourself passing on the album. I'll give it a C.