Rick Harper
Hoot (HiVariety Recordings)
By: Gary "Pig" Gold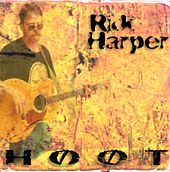 Has anyone reading these words not already fallen head-over-ears in love with the musical magic of Kentucky's veteran "pop spaceman"? Then here's ANOTHER chance: Eleven new tunes fresh from the home studios of Rick Harper that, as always, never fail to twist and turn that idiom often so carelessly referred to as Rock into wickedly delightful, always dumbfounding new forms. And unlike his previous disc - the long and more than colorful career retrospective known as "RickenHarper" - this new hoot sheds hitherto unimaginable clearview onto a couple'a Bert Jansch and even Byrds tunes (Rick's take on Gene Clark's "So You Say You Lost Your Baby" in particular rings nothing short of miraculous, while "Lover Of The Bayou" absolutely wallows in the kind of swamp John Fogerty, for one, only seems prepared to dip a well-placed toe into every now and then these days).

Still, the true, fine stars across this album are Rick's own compositions: "Light Of Love" is just about the most expertly constructed song the man has yet to produce (WHAT a master of the mixing board Rick is!) and "On Sundays I Leave It Alone" deserves to spend the rest of its natural life presiding all over "contemporary" Country radio.

About halfway through the proceedings, "Hoot" gets kinda lushly tense - not to mention invitingly dark - with the "Salty Tears Can Sting" / "Can't Trust Nobody Blues" / "Bucket Fulla Brains" trilogy of happy, harmonious horror. This kinda hurt-fest can get cloying when left in the wrong hands, but Rick's tongue's forever deep in cheek, I'm pleased to report, especially on the ratched, gut-buzzing "Bucket." Detour completed, the truly remarkable "Sing" continues your ride (quintessential Harper!) followed by one indisputable, drop-down MASTERPIECE entitled "Mantra" (a ten-minute-plus left-base epic which brings to mind the other-worldly songwriting of Beach Boy Carl during his "Holland" days but even that sells this monstrous creation quite short). Whew!

Gush all you care to, then, over comparative light-weights like the new Wilco or Lucinda: HERE, I guarantee to you, is the honest-to-gawd, not a single note or word wasted or misplaced Real Thing.