Hot Water Music
No Divisioin (Some Records)
By: Alex Steininger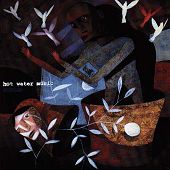 Gainesville's hardcore-emo quartet Hot Water Music take the emotional outbursts common in emo and prolong them for not only an entire song, but an entire album. The music is hard, abrasive, and very edgy, with plenty of passion and drive running through every chord. But, the constant screaming and hammering away just doesn't sit well, and the album soon becomes a hardcore-emo album that just doesn't make the grade.

"Free Radio Gainesville" grabs your attention with a nice bass intro but then quickly slides into some slick hardcore. You're still hooked, until the vocals come in screaming. The music seems to want a melodic, soft-spoken vocal style to play with, at least during the bass-focused, toned down rock verse. I can understand the screaming during the chorus, but it doesn't work in the verses. And doesn't work the majority of the album. To make matters worse, the snarl-filled voice just can't yell and sound good.

The album has some good musicianship and hammering melodies that will get stuck in your head, but, as a whole, falls way short of a keeper. Despite its moments, the majority of the disc is loud, reckless, and unfocused. I'll give it a D.