INTERVIEW: The Secludes
By: Crystofer Paules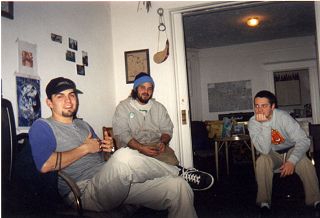 Once lost adrift in the Portland, OR punk scene among bands like The Drapes, Tenpin, and Good For Nothin', The Secludes have emerged fullfledged and ahead of the rest with their new album titled 'Life Goes On'. On this record they have a new(er) drummer and have added another guitar player to fatten up their sound.

While they have been a mainstay of the Portland scene for quit a few years now, this album should help take them to the next level as a band. and as musicians. As the years have passed, The Secludes sound has matured and their songwriting has developed, becoming tighter and much more solid. While some would compare them to NOFX and Blink 182, those comparisons would become null and void if ever a live show is witnessed. Garnering a 'living easy' approach to life and keeping true to what they believe in has and will keep this band climbing up and up into the rock mainstream.

IMWT: Where did you guys get your start as The Secludes?

Jeremy: Ammon and I and a guy named Willie Smith, Will Smith, started in either October or November of 96'.

Ammon: Actually I think it was 95'.

Jeremy: Playing in the garage, being a garage band. First day we made two songs, next day we made two more songs. Went fast and hard like that for about two years. And then we had a change in drummers and picked up Adam after our first tour of California. How long ago was that Adam?

Adam: A couple millenniums ago. Two years.

Jeremy: Well about two years ago. Then we picked up Jason about a year ago. We started out as a Vancouver band for the first two years.

IMWT: Do you guys like being a four piece more than a three piece?

Ammon: Yeah. I think Jason likes it a lot.

IMWT: What drives most of your songwriting?

Ammon: My mood swings!

Adam: Ammon's girlfriends!

Ammon: My drama! We write songs about whatever we feel like. Having fun.

Jeremy: Friends, fun, partying, Adam' ass.

IMWT: Is there actually a song about Adam's ass!

Adam: I'd like to think that.

Jeremy: 'Sick' is about Adam's ass.

IMWT: Being a live band, do you ever lose the thrill of playing in front of people?

Adam: Sometimes before the show it's like 'Awww man, we gotta play again.' And then when we get on there it all goes away and you forget whatever happened before the show.

Jason: I lose the thrill quite a bit when we're playing a bar show in front of ten people and they're standing there staring at you. But the all-ages shows, where the kids run around and go crazy, that's when it's a lot of fun.

IMWT: So you guys like the all ages shows more than the bar shows?

Ammon: Yeah. The kids seem to react more and be a lot more into the music. People in the bars are more about drinking and going to see the music even though they're not really into the music.

Jason: It's our style too. We're not really a 'bar band'.

Adam: Plus all the teenage girls like Ammon!

Ammon: At least I don't take after Jason and look like Billy Joe (Armstrong).

IMWT: Where do you hope that your latest album will propel you to?

Ammon: Another record. Maybe on a little bit bigger label maybe.

Adam: That's pretty much the goal. To shoot for a better record on a better label.

Jeremy: Our goal ultimately is to be able to quit our day jobs. Fuck around and be in a band you know? Tour, see the country.

Ammon: Make some money and make it famous. Well actually, I don't wanna be famous, but make enough money so that I can do what I wanna do, have fun.

IMWT: Why "Margaritaville"?

Adam: Alcoholism.

Ammon: I dunno. You know how we did the whole Hawaiian shirts thing for a long time and it was kinda into that. It was kinda like a spoof on top of that. And we like margaritas too, so that's a big plus.

Jeremy: I like the whole Jimmy Buffet attitude. You know, kinda laid back, tropical, living easy. That was one of the reasons why I liked it.

IMWT: A lot of your songs are sort of Alcohol based, or drinking theme songs if you will. Is that the way you want the kids to perceive you?

Adam: I think its a good thing. I think that when people listen to punk music it drives them to drink. Same thing with country. And if I'm listening to a song that's really fast and they're saying 'drink!drink!drink!drink!drink!' I'm gonna wanna drink. And that's one of my favourite things to do.

Jeremy: We're not promoting alcoholism or anything.

Ammon: Yeah. I don't know. It's just what we do, I don't know if we're alcoholics, we might be. We're functional alcoholics if we are.

Adam: Well, if you say your not then you are.

Ammon: Okay, then we're alcoholics. But it's something we do and it's something fun to write about. And most of the songs are kind of light hearted and goofy at the same time. There not like serious 'Your an alcoholic, your gonna die in a hospital' type songs, more like grab a beer, party, have a good time.

IMWT: How do you feel when people compare your band to other certain Top 40 punk sort of bands.

Jason: We get Blink 182 quite a bit.

Ammon: You know it depends on how in depth they are into what punk rock is I guess. If you got some coolio joe schmoe yuppie working an office job and has no clue what punk rock is, and they ask what you guys sound like, your obviously going to use one of the bigger bands like 'Oh, kind of Green Day kind of Bad Religon' their gonna know somewhere along the line like The Offspring or whatever. And then you got the people who are more in depth in punk music, and your gonna say well we sound like this or like that I guess I don't really even know what we sound like though.

Jeremy: Like when you go see a show and you've never heard a band before. You want some sort of idea of what their gonna sound like. Someone will make a reference, well this band sounds kind of like this, and this band sounds like this. And you will have made a decision to go to their show based on those comparisons. It's no big deal.

IMWT: What do you think of this whole Y2K thing.

Ammon: I don't know, I'm not very computer literate.

Jason: There will be looting and riots in some large cities.

Adam: I think most of the problem is gonna come from people that are really scared of it. And people that assume the world is gonna end and then their gonna freak out. But if those people calm down, I think it will be taken care of in less than a week.

Jason: January 1st of the year 2000 is gonna be just like any other day.

IMWT: Some people would say that The Secludes are the best looking band in Portland. What do you have to say about that?

Jeremy: They like Adam! It's all about Adam!

Adam: It's about this beer gut right here! (slaps beergut)

Ammon: Actually a lot of people put a lot of bands on pedestals cause of their false reality. Looks aren't the shit. What's that dude's name... Ricky... Ricky Martin... it's just a false reality they put you on a pedestal and look at you in a different light.

Jason: I don't really care.

IMWT: Influences?

Jeremy: I grew up basically listening to 80's music.

IMWT: Trixter, WASP and stuff?

Jeremy: No no no. More of the alternative type stuff like The Cure, Depeche Mode. Then I went through my metal faze and that was kinda fun, and then I went to my punk rock faze.

Adam: I hate punk, I don't even know why I play this music.

Ammon: Mine is pretty much the same, hardcore, punk rock. More punk rock than anything though.

IMWT: Do you guys have big plans for the future?

Ammon: Try to keep playing. Sell this album that's out now. And make some money, get picked up by a bigger label.

Adam: It's basically just one step at a time right now.

Ammon: We have a long road ahead of us I think. Try to have fun with it. Get to the next step, and after that do the next step.

IMWT: Number one singles, MTV?

Ammon: Oh yeah. Billboard Top 40, you know.