Cloud Eleven
Cloud Eleven (Del-Fi 2000)
By: Gary Pig Gold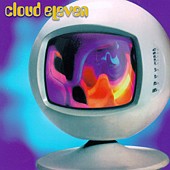 Formerly operating in and around the City of Angels under the nom-de-band Jiffipop, the one-man "Pet Sounds" known as Rick Gallego resurfaces with this stunning collection of brightly shimmering, joyously glittering (no, there can be no other word for it?) POP. For "Cloud Eleven" truly is packed to the sonic gills with all matter of extremely-thought-out, yet still somehow crazed ?n' whacked wizardry the likes of which haven't been heard on a consistent basis since, oh, roughly "The Who Sell Out."

Kicking off with a drop-down 20/20-meets-Cheap Trick wallop ("Tokyo Aquarium") and running gamuts from the big-stereo guitar-play of Badfinger ("Superfine") through utterly adventurous, McCartney-worthy octave hopping ("Take Control"), "Cloud Eleven" is one of the few discs to cross my lap in the past twenty or so years which may actually suffer from a TOO over-abundance of unabashed, unapologetic ear-candy. But hell, this kind of "problem" should only occur more often in these most melodically challenged of times, no?

Sure, the retro-chic occasionally hits the Danger level (such as on the effect-laden "Hurry Home"), while a note-for-note Lovin' Spoonful cover, not to mention Michael Brown tribute, only serve to distract from Rick's very own (entirely comparable, by the way) way with a song. Still, one bar of "Spiral," for example, and ALL such possible sins are instantly forgiven: It, like the rest of this magnificent album, easily stands alongside ANYTHING from your or even my record collection, I kid you not. Indeed, while "rock" may in fact be long dead and gone, "Cloud Eleven" takes only forty minutes to prove that the beast once and forever known as "pop" is not only alive and well, but perhaps even ready to once again inhabit our lives on a terrifyingly regular basis. And, dare I say, not one single second too soon.