Guttermouth.
Gorgeous (Nitro Records)
By: Alex Steininger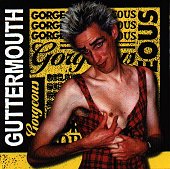 Pop-punk/hardcore band Guttermouth takes humor, adrenaline, and fun, stirs them into one sound, and comes out with their pop-punk sound that is less sugar than some of the other California pop-punk bands, as well as faster and harder, thus the hardcore tone to the music.

"Con Especial" is an anti-abortionist's worst nightmare, a song about not wanting a kid and wanting to kill it ("I'll be chokin' off its airway/ So it won't see a fuckin' birthday/ let's abort it on a Sunday/ 8 whole pounds of worthless shit/ and you want it to suck your tit"). Nasty, vulgar, and hell of funny (if you look at it as a joke), the band will either piss you off or make you crack up laughing. Either way, they get a reaction out of you.

Much like "Con Especial," "Encyclopedia Brown," "Viva America," and "A Nice Place To Visit...," to name a few, mix a serious message with a lot of humor, to either mask the point of the song or to make you hunt to find it (while you're smiling and laughing). All of them blast through with strong pop-punk melodies that are too fast and harsh to really be considered pop, but the melodic sense and hooks are still there, even though sometimes the hardcore seems to take center stage.

The band can bash it out and make a lot of noise, they can play the part of the clowns and make you laugh, or they can just be as brutal as fuck and make you feel every deep bass line, sharp guitar riff, and pounding drum beat aching throughout your body. No matter what they're in the mood for, you can believe they'll make sure you're in the mood for it too. I'll give this album a B+.