The Swingvergnugen
Road Rage (Dogsteady Records)
By: Alex Steininger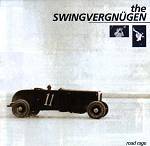 Swing's revival didn't just occur in the US, it also happened in Germany, and one of their first swing bands, The Swingvergnugen, are a testament to that fact. Playing rock 'n' roll influenced swing music with a very modern feel, German's The Swingvergnugen have a good sound here, even if it isn't tried-and-true swing music at the core.

"Road Rage" is filled with humor, which is nice to hear in a swing band. While a lot of swing bands seem to focus on love and romance (which can also be found on here), The Swingvergnugen also want to make you have an all around good time, which means laughing, dancing, and smiling. Other songs like "Trapped in my Mind," "I Don't Care," with its lounge-jazz feel and more traditional swing roots, "Money in the Streets," and "Swing up" prove that the band can pull off the lounge-act swing set as well as the rockin' swing.

The band's vocalist can be smooth, tongue-in-cheek, witty, or crazy, depending on the mood he wants to give off in the song. This versatility is nice, since you never really know what he is going to do until you've heard the disc a few times and know it top to bottom. And even though they have a lot of rock influences in their swing, they still manage to pay homage to the great swing leaders, and maintain their own, distinct style.

You'll dance, smile, laugh, and have fun. And isn't that what music is all about? They may not be true swing, but their diversity is what keeps the music from becoming stale. They're lively and need to be credited for that, too. I'll give the album a C.