Steadman
Loser Friendly (Freeloader Recordings)
By: Alex Steininger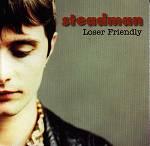 Simon Steadman's story is another one that could have ended up with a tragic ending. After all, he signed a major label contract, realized what he had done was not the right thing for him, and then label red tape offered the possibility of his record never being released. It was a nightmare, though this story has a happy ending. Steadman was able to start up his own label, Freeloader Recordings, with his bandmates. And as the press release reads, "From Major Label Frustration to Indie Satisfaction" goes the story.

Steadman play indie pop-rock with plenty of power, as the opener, "Cut Me Loose," clearly displays. The music drips with soft pop charm while also traveling an upbeat path that gives it a power-tinted edge to play with. Simon's voice helps add to the beauty and warmth of the music, but he is also able to fire up the vocal chords and add a roar to the music to go with the more aggressive styling of the band.

"No Control" slides along with beauty and grace. A melancholy wind flows through the song as Simon's voice seems down and out, but the music, and the dreamy landscapes it creates, helps lift up the song with some optimism. The same is true for "Oceans of You," though this time around the band decides to drop the soft tone and pick things up a bit. Then, on "World Too Late," they take it full circle and blast out a power-pop song. Instead of singing in a melancholy tone, Simon echoes the power-pop sentiment by pulling his voice up and putting some push to it. Steady and strong, he adds a nice boost to the song and helps give it its charge.

"Whirlwind" and "No Big Deal" are two more songs that prefer the softer pop settings, but both songs have a power-pop boost resting in the background and come out for a bounce or two during the duration of the song. "Saviour," though focuses the band's energy back on some revved up power-pop.

The beauty of this band is their ability to play power-pop and softer, gentler pop music on the same album and always making sure it sounds cohesive. Simon's voice is versatile and can go from gentle whispers to full on rock cries without losing a beat. I'll give this album an A-.