Mustard Plug
Pray For Mojo (Hopeless Records)
By: Alex Steininger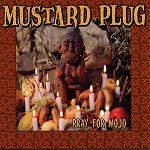 Ska-punk has become a cliched sound for some, while others are pushing it even further and keeping it alive. Grand Rapid, Michigan's Mustard Plug is part of the later group, taking the familiar ska-punk sound and keeping it charged and full of life.

On their third full-length, PRAY FOR MOJO, the band comes through with their usual presentation of highly energetic horns coupled with pop-punk beats, and the ska breakdown, that has kept kids dancing since 1993.

"Send Her Back" puts forth a heavily distorted upbeat mixed with a driving punk charge, a horn section as hot as the sun and almost as bright, too, as well as a pop touch to make everything go down smooth.

Recorded at The Blasting Room, and produced by Bill Stevenson and Stephen Egerton from pop-punk kings the Descendants and All, the sound is glossy and coated with sugar, but still maintains the diabolical punk touch that keeps things razor sharp. And much like the opener, the rest of the album will have you banging up against the wall one moment and skanking the next, without even thinking about your reactions to the ska-punk sounds that dive between the two in a few seconds.

"Someday, Right Now" is a prime example of what the band is capable. It starts out like any other pop-punk song, full of fast guitars and a hammering rhythm section, and then it starts to bounce around the room with a ferocious ska scent. Then they bring the punk rock back into the mix to shake things up, before unleashing the ska again.

Although not anything different than they've done in the past, the album has an energy level and a drive not present on their two previous albums. It seems to flow with electricity, maintains their usual pop hooks, and leaves room for you to mosh or skank along to the same song. Plus, unlike a lot of the ska-punk albums released lately, the album takes no time at all to get into; it's a hit-or-miss blast of ska-punk, because either you'll instantly warm up to it or you'll never get it. I'll give it a B+.